3 Year Hassle-Free Warranty Available
On all Certified-Preowned Rolex Watches
Highest offer & immediate payment
diamond / gold / silver / high-end watches
Master Jewelers & Watch Technicians
Your Jewelry and Timepiece is in good hand
3 Year Hassle-Free Warranty
On all Certified-Preowned Rolex Watches
Highest offer on the spot
diamond / gold / silver / high-end watches
Master Jewelers & Technicians
Your Jewelry & Timepiece is in good hand
Houston • Katy • Sugarland • Stafford • Pearland • Richmond • Spring • Pasadena • Conroe • Memorial City • The Woodlands
Houston • Katy • Sugarland • Stafford • Pearland • Richmond • Spring • Pasadena • Conroe • Memorial City • The Woodlands
Buy & Sell Gold in Houston
We buy gold.
Looking to sell your unwanted gold jewelry? Houston Gold Exchange is Houston's largest gold buyer and trusted store. Bring in your gold coins, rings or other items. We will give you the highest offer and immediate payment. The process is quick and easy and your estimate will be performed while you wait. We buy Gold in Houston as well as Silver Bullion which are at amazing prices right now. Bring in your coins, bars, rounds, ingots or monster boxes and receive immediate payment for your items. HPD security is also on-site and available for your ease of mind.
Houston Engagement Rings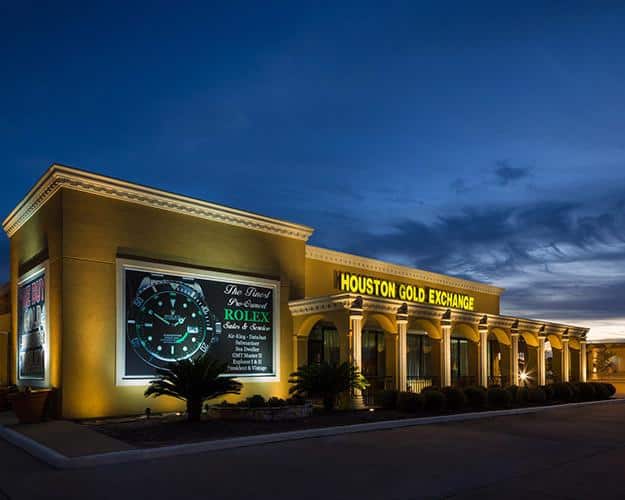 Never is there a time when getting the 4 C's right, matters more than when you're purchasing a diamond engagement ring. At the Houston Gold Exchange, we offer the finest selection of diamond engagement rings in Houston – bringing you the best when it comes to Clarity, Cut, Color, and Carat. Gather your unwanted or unused gold and trade it in for a beautiful, one of a kind, diamond engagement ring for the love of your life. Houston Gold Exchange has been serving couples in the Houston and surrounding area for more than 30 years and during that time our Houston jewelry store has helped thousands of happy couples find the diamond engagement ring of their dreams. Come in today and let one of our diamond engagement ring experts help you pick out that perfect diamond ring you have been looking for!
Houston Jewelry Store
The Houston Gold Exchange jewelry store offers only the finest in diamond rings, engagement rings, watches, and other jewelry. Whether you're looking for a luxury watch, a gorgeous diamond ring, or a dazzling diamond statement piece you will find it at Houston Gold Exchange. Our Houston jewelry store has been serving satisfied customers in all of the Houston, Sugar Land, The Woodlands, Baytown, and Conroe areas for decades. Our staff is highly trained and qualified to determine the highest value for you to sell gold and sell silver. Upon inspection you will be paid top dollar for your trade in jewelry and have the opportunity to get that stunning, diamond ring you deserve. Don't let that drab jewelry sit in your home just collecting dust. Bring it in to Houston Gold Exchange, a Houston jewelry store, and know you will be compensated generously for your used diamond rings and other jewelry pieces.
Houston Used Rolex Watches
The Rolex Watch brand has been associated with high status, class, and prestige for decades. At Houston Gold Exchange you will find a wide selection of high quality used Rolex watches in Houston. Typically you will only find the Rolex brand among the extremely wealthy. At Houston Gold Exchange we offer our certified used Rolex watches at fair prices making them widely available to all our Houston customers. There's no reason to wait on getting the used Rolex watch you've been coveting. Bring in your unwanted gold or silver and we will pay you top dollar; making that used Rolex watch well within reach.